Have we got a deal for you!
2019 End of Year Blowout
Commuter Rate – $269 for 1 student, $199 per for 2 or more students
Book your 2019 three day November or December golf school NOW and save at the Classic Swing Golf School!  Book your three day golf school session with a start date between November 11, 2019 and December 31, 2019 at the Classic Swing Golf School and attend for $269 ($100 off) or $199 per person with a group of two or more students!!  Special applies to reservations by mentioning the Internet Special code listed below. Special applies to all three day packages and dates where space is available except for the Fall Frenzy or Winter Meltdown . The code for this internet special must be mentioned at the time of reservation over the phone or in the appropriate field of the online registration page for you to receive the above savings, and it is not applicable for spaces that are currently reserved. No other specials or discounts may be used in conjunction with this offer. Please call 1-800-827-2656 or fill out the reservation form on the Reserve A School page to make your reservation. Internet Special Code: 2019EOYB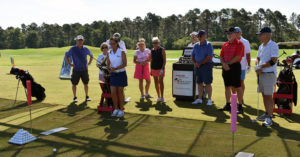 During a playing lesson, our instructors focus on areas such as your mental approach to the game, pre-shot routine, shot selection, club selection, reading greens, uneven lies, and trouble shots. For beginners, playing lessons are also beneficial for areas such as checking in at the pro shop, rules, etiquette, and the basics of how to play the game. Our golf instruction for seniors or those individuals whose outlook on the game has been affected by medical treatments or surgeries includes adapting the mental approach as well as recalculating the pre-shot routine and club selection. Playing lessons are not designed to focus on the golf swing or mechanics as we do that instruction on the practice facility. Whether you are adding this item on to a three-day school or just wanting to think your way around the golf course better, playing lessons can help lower your scores.