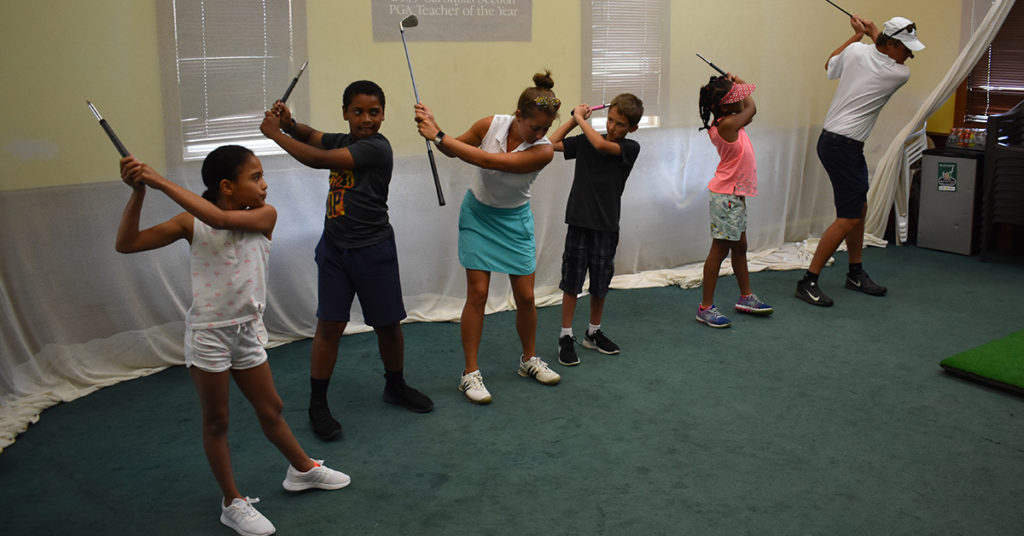 The entire staff at the Classic Swing Golf School is very proud of our junior golf program. The goal of the junior golf program is to ensure that each junior receives instruction on all aspects of the game including their swing, rules, golf etiquette, and sportsmanship in an attempt to teach them a game that can be enjoyable for a lifetime. Whether a junior golfer is picking up a club for the first time, sharpening their skills for a junior tournament, preparing for high school golf, or striving for a college scholarship, the Classic Swing Golf School has a program to fit him/her.
We provide various opportunities, from junior camps to the three-day schools to individual lessons, for the junior golfers to access the finest in golf instruction. We have many junior golfers that attend our three-day school throughout the year. This has proven to be a wonderful way for families to enjoy a golf school vacation together. Our summer junior golf camps are operating for a 31st consecutive year for ages 5-13, and the schedule for the upcoming summer is listed below. We also offer individual lessons to students of all ages during all seasons.
The Classic Swing Golf School
The Leader in Junior Golf Instruction on the Grand Strand!

15 Hours of Professional Instruction in
Putting and Chipping,Pitching and Short Irons,Woods,Rules
Sportsmanship and Etiquette,Tournament on Fridays
Summer 2023 Junior Golf Program
$129 for the week/$30 per day
Choose three camps for $300
US Kids Golf Club Options Available
Week Long Classes
Monday through Friday Hours for the following dates
Legends (9:30 am to 12:30 pm)
Level 1 Camps:  Ages 5-13 (Beginners)
June 5 – June 9
June 12 – June 16
June 19 – June 23
June 26– June 30
July 10 – July 14
July 17 – July 21
July 24 – July 28
July 31 – August 4
August 7 – August 11
August 14 – August 18